Discover why leading retailers rely on Appriss Retail
Our data science-driven solutions empower our retail partners to make real-time decisions that remove friction from the shopping journey, both online and in-store. Appriss Retail's SaaS-based tools use machine learning and artificial intelligence to reveal new opportunities for consumer and employee engagement that help you drive real value back to the bottom line.
MEET WITH US IN BOOTH #3315
Learn how Appriss Retail can help you minimize risk to maximize profitability
See for yourself all the ways Appriss Engage and Appriss SecureTM can help you take control of critical business processes. Schedule a time to discuss your needs and see a demo of our tools during Expo hours.
Sunday, January 15 | 10am to 5pm
Monday, January 16 | 9am to 5pm
Tuesday, January 17 | 9am to 4pm
PARTY WITH US, SUNDAY, JANUARY 15 | 7:30-9:30PM
Enjoy the Ambience of a Swiss Chalet
Haven Rooftop, NYC
132 West 47th Street, New York
Be our guest at our special networking event at Haven Rooftop, located on top of the Sanctuary Hotel in New York City's world-class Theater District and in the heart of Times Square. The entire space will be artfully transformed into an authentic Swiss Chalet to welcome our guests for delicious food and drinks, accented by magnificent views of Midtown Manhattan.
EXHIBITOR BIG IDEAS PRESENTATION
Returns are powerful engagement opportunity – one you can't ignore
Tuesday, January 17
9:15 - 9:45 am
Expo Level 3, Stage 3
Join us to learn how AI and machine learning can be used to enhance consumer engagement and satisfaction during returns by recognizing consumers with low risk behaviors and recommending more lenient enforcement of policies; redirecting consumers to stores to maximize inventory, or delivering targeted, personalized incentives to recover revenue.
Presenters:
David Speights, PhD, Chief Data Scientist, Appriss Retail
Marc Patrouch, VP of Asset Protection, Advance Auto Parts
Dale Foster, Director of Asset Protection, Advance Auto Parts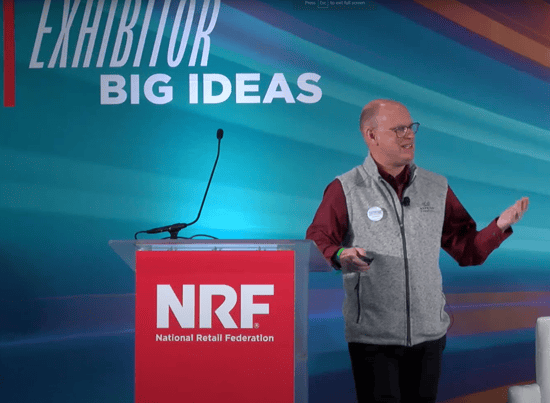 APPRISS ENGAGE
Using the power of AI and machine learning to recognize the behaviors, patterns and preferences of each consumer, Engage can deliver a consistent experience during the final stage of a consumer's journey, while reducing risk and protecting profits. Engage delivers behavior-based recommendations (BBR) within the retailers POS, ecommerce or customer service applications to stop, modify, redirect or reward the actions of consumers during the purchase, return or claims process.
APPRISS SECURE
Secure Store provides immediate insight into your organization's most critical data. Using AI and machine intelligence, Secure's prescriptive analytics pinpoint situations with people, places, products, and processes that need your attention. But that's not all. It also tells you how to resolve the issues to prevent loss in-store and online, enhance your inventory position, and streamline your business operations to reduce shrink, improve profitability, and achieve rapid ROI.